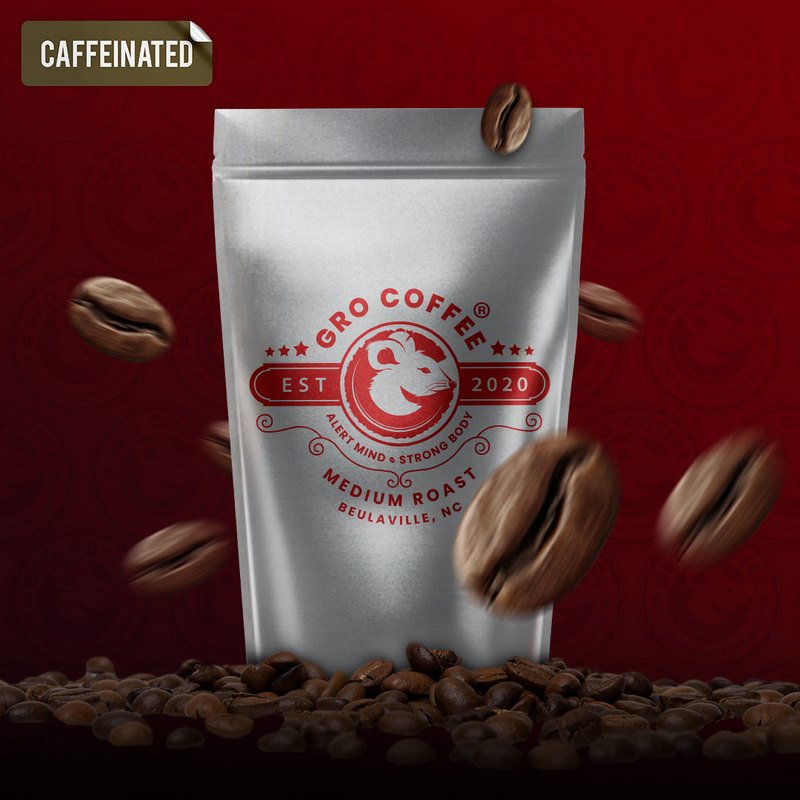 Caffeinated Coffee
There is a wide range of coffee out there, but GRO coffee is unmatched for its unique flavor and caffeine level. We take great pride in roasting our beans to order, giving you the freshest beans out there and you will be able to taste (and smell) the difference! If you want a delicious coffee that's low in acid and doubles as the ultimate performance enhancer, then this is for you!
HOW IT WORKS 
Purchase at any time and you will get the freshest coffee on the market! Once ordered, your coffee will be roasted on the 20th of the month and then will be shipped straight to you to ensure you get the freshest possible coffee. Please note that if you order after the 19th, it will not be shipped until the 21st of the following month.

ABOUT OUR COFFEE
Our signature blend of coffee is specifically formulated to not only give you a much-needed 'pick me up', but also a unique flavor that comes from the mountains of East Africa. The flavor is packed into a single bean known as a peaberry that is grown in abundance only in the area around Mt. Kilimanjaro. A clean and crisp feel with rich cocoa flavors will surely leave you wanting just one more cup. 
ROAST LEVEL: MEDIUM-DARK
PROCESSING METHOD: WASHED
AROMA: ROBUST
FLAVOR NOTES: TART AND CRISP WITH RICH COCOCA AND LEMONGRASS 
SUBSTANCE: TART AND CRISP
FINISH (AFTERTASTE): CLEAN MOUTH FEEL